Support Our Troops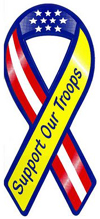 Our freedom has been paid for with the blood and lives of American soldiers. Those brave troops have placed their lives in the line of danger to protect each one of us. We continue to enjoy the blessings of freedom and liberty thanks to the unselfish acts of our troops.

They are fighting for us every day! It's our duty to support them. No matter what your views are on the war, show your support for our troops and their families. Reach out to military families in our community, especially those with a loved one overseas.

The support and generosity of the American people has touched the lives of many servicemembers, many of whom are deployed overseas.


USO – Donate to the USO to help support our troops. The USO is a non profit organization whose mission is to support our troops.

Since World War II, the USO has been a steadfast supporter of military personnel around the world. While times have changed, the USO mission has remained the same: to boost the morale of service members and serve as the link between them and the American people. Today the USO delivers its programs and services to 1.4 million active duty service members and 1.2 million National Guard and Reserves as well as their families at more than 130 centers located worldwide.

Services include information referral services, Internet and e-mail access, housing and emergency assistance and support groups, to name a few.



Military Postal Service Agency
As an extension of the United States Postal Service, the Military Postal Service provides Department of Defense personnel, their family members and other authorized users mail services around the world. Their customers receive basically the same level of service as though they were at home in the United States.
Differences are based on the country in which they are stationed and the type of military operation in which they are involved. This is accomplished through partnerships with several other agencies.
To move military mail the services of the United States Postal Service, US Transportation Command, Military Sealift Command, Air Mobility Command and Military Transportation Command play vital roles.

The U.S. Postal Service is no longer accepting "Any Service Member" or "Any Wounded Service Member" letters or packages. Mail to "Any Service Member" that is deposited into a collection box will not be delivered. Instead of sending an "Any Wounded Soldier" letter or package to Walter Reed, please consider these options:

Donate a Calling Card to help keep servicemembers in touch with their families.

Donate a Care Package to let a servicemember know you care.

There are programs that offer aid to our military -- everything from care packages to emergency services to military family support. Show your pride in our armed forces today, either by purchasing a gift or card for a servicemember, or donating to programs that support our military. The Pentagon is also asking people to help through financial contributions, letter-writing and e-mail, or volunteering time through non-profits.

Support Our Troops Websites
Below are Web sites for several organizations that are sponsoring programs for members of the Armed Forces. Servicemembers do value and appreciate such expressions of support.
Other Information for Veterans
Kingman Regional Medical Facilities

Veterans Transportation Network
1201 E Jagerson Ave
Kingman, AZ 86409-1196
(928) 757-7192

American Legion
Swaskegame Post 14
225 E Oak St, Kingman
(928) 753-3555

Veterans of Foreign Wars
2826 Wikieup Ave
Kingman, AZ 86401-5208
(928) 753-3040

Veterans of Foreign Wars
3036 E John L Ave
Kingman, AZ 86409-2020
(928) 757-9191