The 2009 program began with a prelude on the pipe organ by Paul Carson. It was such a pleasure to hear the organ being played so well.

Lorraine Hunt, Board President, welcomed everyone.

Guitar and soloist were local performers who were raised in Kingman and graduated from Kingman schools. Dave has played guitar and harmonica most of his life, he is an Engineer Manager at Frontier.

Sherri also graduated from Kingman High School and has been involved with music since the age of 15. She is currently Judicial Assistant to a Superior Court Judge. Dave and Sherri combined their musical talents to perform for us.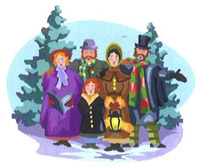 Everyone then enjoyed a sing-a-long with Director Dave Kopecky. We sang the old time favorites like Jingle Bells, White Christmas, Hark The hearald Angels Sing, Deck The Hall, Silent Nght Holy Night, Rudolph The Red-Nosed Reindeer and We Wish You A Merry Christmas.
Floranda Powskey preformed a solo.
Chris Commisso preformed a piano solo.
It was a very Merry Christmas.