The Kingman Cancer Care Unit Arts and Crafts Fair is an annual event to raise money for the local Cancer Care Unit. This wonderful event is a great place to shop for that unique holiday gift while sampling some of the local goodies.

You can find that perfect item for that special person that has everything from the many vendors and their original arts & crafts. There is a wide selection from dolls to jewelry and hats to afghans, as well as everything in-between.

2011 Photos

The event is FREE to the public.
There is a small parking fee, usually just a dollar or two.

Event Location:


Mohave County Fair Grounds


2600 Fairgrounds Blvd.


Kingman, Arizona 86401
2013 Times and dates are
Saturday, Nov. 10th – 9:00am until 5:00am and
Sunday, Nov. 11th – 9:00am until 3:00 pm.
For Additional Information Contact
Dorothy Brown
Kingman Cancer Care Unit
PO Box 3014
Kingman, AZ 86402
(928) 757-2546
Kingman Cancer Care Unit
A Non Profit Organization/Service
501C non-profit organization
The Kingman Cancer Care Unit is not affiliated with any other cancer organization. All of the money raised is used to help patients in our area with their financial needs. We do, however, make a donation each year for cancer research to the University of Arizona.
Read about The Kingman Cancer Care Unit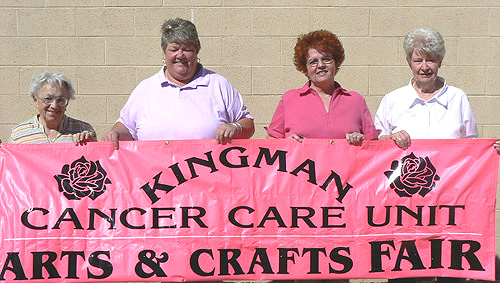 Kingman, Arizona Cancer Information
Kingman Arizona Annual Events List With Dates